IYCr2014 South Asia Summit Declaration
The IYCr2014 South Asia Summit Declaration took the form of an Appeal letter, with 53 signatories, addressed to the President of the IUCr. This letter is published below.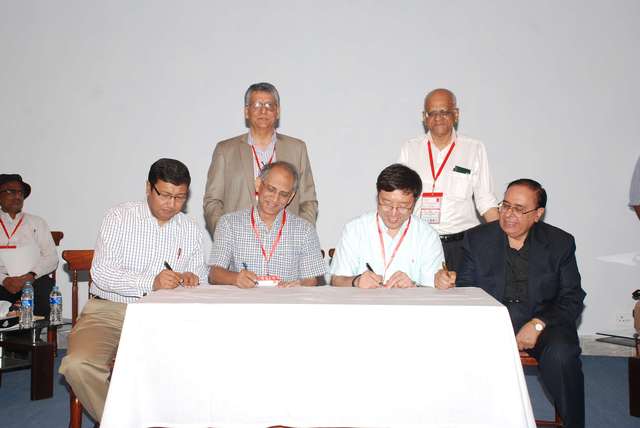 Initial signatories of the Summit Declaration. Seated at table (from left): M. Iqbal Choudhary, Pinakpani Chakrabarti, Zhie Jie Liu, Atta-ur-Rahman.
Appeal
29th April, 2014
Prof. Gautam Desiraju
International Union of Crystallography
UK
Dear President:
We are pleased to report that the IYCr South Asia Summit Meeting on Vistas in Structural Chemistry in Karachi, Pakistan during April 28-30, 2014, has provided us an opportunity to extensively discuss and review the status of education and research in X-ray diffraction sciences in various countries and in the region.
Over 380 senior researchers and young students from some 22 countries have participated in the event. Many of us were engaged in extensive discussions focusing on the promotion of regional and international cooperation in the field of X-ray diffraction/crystallography/drug design and discovery, in line with the objectives of the International Year of Crystallography.
Through this letter, we request the IUCr to initiate actions to promote regional scientific collaboration including joint holding of training workshops, video-based lecturing, encouraging mobility of researchers, promoting joint research projects, leveraging national bodies and institutions for financial support and facilitating regional conferences on the subject of X-ray diffraction and its applications in the South Asian and East Asian regions.
With very best regards
Sincerely yours
Atta-ur-Rahman
Karachi University
Pinak Chakrabarti
Bose Institute, India;
President, AsCA
Zhi Jie Liu
Shanghai Tech. University
M. Iqbal Choudhary
ICCBS, Karachi, Pakistan
Siddhartha P. Sarma
IISc, Bangalore
Christian Betzel
University Hamburg, Germany
Ram Vishwakarma
I.I.I.M. CSIR
P. K. Bharadwaj
IIT Kanpur
M. Aslam Baig
NCP Islamabad
C. M. Ashraf
RSC Pakistan (Section Lahore)
Bohari M. Yamin
Univ. Kebangsann Malaysia
Ashwini Nangia
Univ. Hyderabad
Kumar Biradha
IIT, Kharagpur
Kevin Roberts
University of Leeds, UK
Vinitha M. Thadhani
I. Chem, Sri Lanka
Sammer Yousuf
IIEJRIC (ICCBS)
Dr M. Nawaz Tahir
University of Sargodha
Maqsood Ahmed
The Islaimia University of Bahawalpur, Pakistan

| | |
| --- | --- |
| Abdul Rauf Siddiqi | COMSATS, CIIT, Islamabad |
| A. Ramanan | IIT, Delhi |
| S. Natarajan | IISc, Bangalore |
| Aliya Abbasi | HEJ Res. Inst. Chem. (ICCBS) |
| Bina S. Siddiqui | HEJ Res. Inst. Chem. (ICCBS) |
| Fatima Z. Basha | HEJ Res. Inst. Chem. (ICCBS) |
| Siti Fairus Mohd Yusoff | Universiti Kebangsann Malaysia |
| Ahmed Akram Attari | Biology, Bahauddin Zakariya University |
| Abida Rehman | Dept of Chemistry, Uni. of Cambridge, UK |
| Dr Zahid Hussain | Dept of Chem. University of Karachi |
| Dr Sonia Siddiqui | Dr Panjwani Centre for Molecular Medicine and Drug Research, UoK |
| Dr Atia-tul-Wahab | Dr Panjwani Centre for Molecular Medicine and Drug Research |
| Dr Sajid Jahangir | Dept of Chemistry, Federal Urdu University |
| Dr Reaz Uddin | Panjwani Center (ICCBS) |
| Dr Sobia Rana | Dr Panjwani Center |
| Dr Uzma Ashiq | Dept of Chemistry, University of Karachi, Pakistan |
| Dr Masooda Qadri | Dept of Chemistry |
| Dr Samiyah Tasleem | Dept of Microbiology, FUUAST, Karachi |

| | |
| --- | --- |
| S. Abid Ali | HEJ |
| Rifat Ara Jamal | Department of Chemistry, University of Karachi |
| Dr Huma Aslam Bhatti | ICCBS |
| Dr Moaz ur Rahman | NIBGE, Pak. |
| Dr Mumtaz Ali | Dept of Chemistry, University of Malakand, Pakistan |
| Prof. Dr Sabire Begum | ICCBS, Univ. of Karachi |
| Dr Umar Farooq | COMSATS |
| Dr Syed Ghulam Musharraf | ICCBS |
| Dr Farhan A. Khan | COMSATS |
| Dr Abdul Hameed | ICCBS |
| Dr Syed Tarique Moin | ICCBS |
| On behalf of all PhD students Mujeed-ur-Rahman | ICCBS, Karachi, Pakistan |
| Dr Achyut Adhilai | ICCBS, Karachi, Pakistan |
| | |
| | |
| | |
| | |
| | |