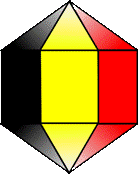 Belgium: Crystal Growing Competition
During a period of 4 weeks (24 February - 4 April 2014) children from secondary schools have to grow single crystals. The compound to crystallize will be provided by the company Thermo Fisher Scientific - Acros Organics. The competition is organized by the Belgian National Committee for Crystallography and sponsored by the Royal Academy and Acros Organics.
The prize awarding ceremony will take place on 21 May 2014 at the Academy Palace in Brussels. During the ceremony the stamps related to IYCr2014 will be presented by the Belgian post Bpost.
---