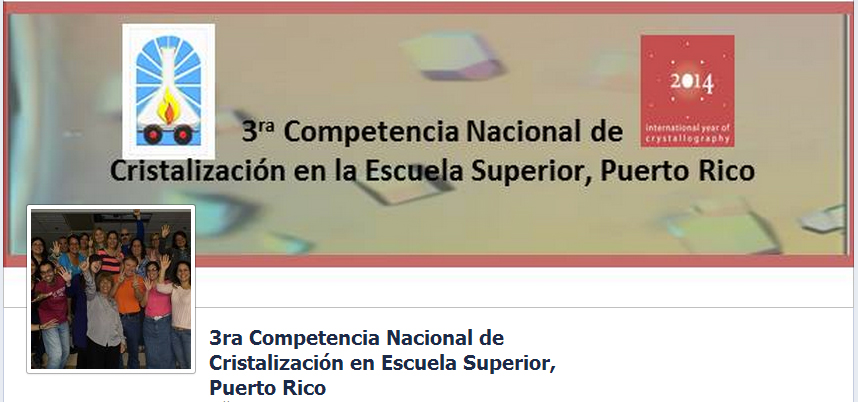 Puerto Rico: National Crystallization Competition in High Schools
The National Crystallization Competition introduces students to biomedical research, specifically in protein crystallization and protein structure. The Competition provides students with the opportunity to incorporate novel techniques used in protein crystallization research within the science curricula of High Schools.
Knowledge of crystal formation and its techniques broadens the perspective that students have on research and its applications. Furthermore, the competition can reinforce their previous scientific understanding while increasing the students' skills in the design of systematic working plans and critical thinking. It also encourages students to pursue College degrees in science-related fields.
This initiative is an evolution of previous crystallization competitions that started in 2009. In this third edition, students will be able to work with crystallization of model proteins such as Lysozyme.
Objectives
To present the relevance of crystallization with our everyday life to students
To introduce students to protein crystallization and its basic techniques
For students to develop verbal and writing skills for scientific communication
To introduce students to crystal protein diffraction
Important Dates
1. Teacher workshops
As part of the National Crystallization Competition, teachers will participate in a two-day workshop. The workshop will include an introduction to protein crystallization, as well as experimental practice in the principal crystallization techniques. These workshops aim to create a link between teachers and students participating in the competition.
Day 1: January 18, 2014.
Day 2: March 8, 2014
Place: Science on Wheels Educational Center at Chemistry Building (Q-018) in the University of Puerto Rico, Mayaguez Campus.
2. Regional Competitions
Regional competitions aim to select a team from each school that will represent the school at the Semi Final Competition.
Participating schools will be divided in two regions of Puerto Rico: west and east.
West Regional Competition
Day: April 26, 2014.
Place: University of Puerto Rico, Mayaguez Campus
East Regional Competition
Day: May 3, 2014.
Place: University of Puerto Rico, Rio Piedras Campus
3. Semi-Final Competition
In the semifinal competition, three teams will be selected as finalists.
Day: May 16, 2014.
Place: University of Puerto Rico, Mayaguez Campus
4. Final Competition
In this Final Competition, high school students selected as finalists will have the opportunity to present at the poster session. They will have the chance of networking with undergraduate and graduate college students, and professors that work in the crystallization field in Puerto Rico, as well as with other international crystallographers invited as plenary speakers.
Day: July 31, 2014.
Place: 73rd Conference and Exhibition (PRChem 2014) at the Ritz-Carlton Hotel, San Juan
After the selection of the finalist in the Competition students will be encourage to obtain crystal diffraction of their experiments.
---