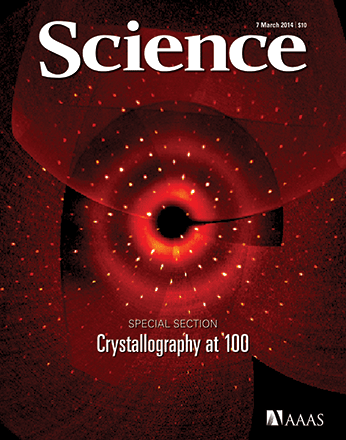 Science Crystallography Special Issue
Pick up a copy of Science's Special Issue reprint on 'Crystallography at 100', which celebrates the insights gained from structural studies that have revolutionized our understanding of chemical and biological systems, leading to the award of 29 Nobel Prizes for scientific achievements related to, or involving the use of, crystallography, from the IYCr/IUCr stand at the IUCr Congress in Montreal.
Table of content
INTRODUCTION
Going from Strength to Strength
Robert Coontz, Julia Fahrenkamp-Uppenbrink, Marc Lavine, and Valda Vinson
Science 7 March 2014: 1091.
News
Dazzling History
Thomas Sumner
Science 7 March 2014: 1092-1093.
Over the past century, X-ray crystallography has transformed scientists' understanding of the structure and behavior of materials.
Gently Does It
Robert F. Service
Science 7 March 2014: 1094-1097.
A technique for crystallizing fragile biomolecules without disrupting them is helping researchers probe the structures of some of the body's most important but elusive proteins: those that usher other chemicals through the cell membrane.
Reviews
Cutting-Edge Techniques Used for the Structural Investigation of Single Crystals
Judith A. K. Howard and Michael R. Probert
Science 7 March 2014: 1098-1102.
Developments in X-ray Crystallographic Structure Determination of Biological Macromolecules
Elspeth F. Garman
Science 7 March 2014: 1102-1108.
Femtosecond Crystallography with Ultrabright Electrons and X-rays: Capturing Chemistry in Action
R. J. Dwayne Miller
Science 7 March 2014: 1108-1116.
---