Crystalli!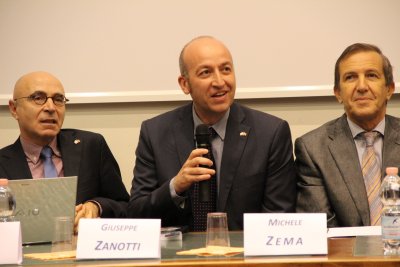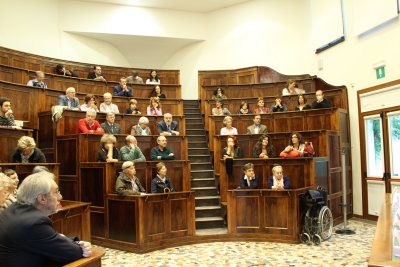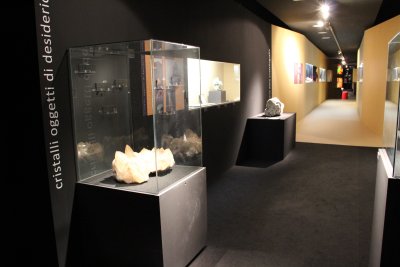 The Opening Ceremony. Top, Michele Zema, IYCr2014 coordinator, introduces the International Year of Crystallography to the invited audience.
A
major new exhibition
is currently on display in Padova, to celebrate the theoretical and applied aspects of crystallography. Many participants attended the formal Opening on October 5th, and were given a guided tour of the exhibits. The exhibition has seven sections:
Crystals: objects of desire
The history of crystallography in Italy
Looking at crystals
Diffraction and crystal structures
Crystals and life: molecules, proteins, viruses
Crystals and novel technologies
Symmetry and art
Among the many historic books on display are Romé de l'Isle's Essai de Crystallographie (2nd edition, 1783), which provided the first definition of the term 'crystallography', and Haüy's Essai d'une Théorie sur la Structure des Cristaux (1784) and Traité de cristallographie (1822). There are several galleries of spectacular natural minerals and crystals, collections of historic microscopes and other instruments, and interactive displays for young and old alike.
The exhibition is organized by Gilberto Artioli, with the participation of several Departments of the University of Padova, Federico Pezzotta (Museo di Storia Naturale, Milano), Renato Pagano (Milano) and Gruppo Mineralogico e Paleontologico Euganeo, and in collaboration with other Italian universities and museums. Entrance is free of charge, and the exhibition runs at the Museum in Padova's Botanic Gardens until 28th February 2014.