Crystallography for the next generation: registrations open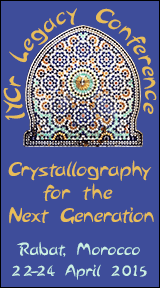 Register now to attend the "IYCr legacy" conference, which will be held in lieu of a "Closing" ceremony for the International Year of Crystallography.
The conference will take place at the Hassan II Academy of Science and Technology in Rabat (Morocco) on 22-24 April 2015.
A welcoming reception will follow the opening ceremony on Wednesday 22 April, starting at 5 pm.

Participation is free but registration is required.