Malaysia celebrates IYCr2014
The University of Malaya (UM) Chemical Crystallography Symposium 2014 was held recently in Kuala Lumpur, being the first formal commemoration of the IYCr2014 in Malaysia.
The guest of honour and keynote speaker of the symposium held on May 28th, was the President of the IUCr, Prof. Dr. Gautam R. Desiraju. In his first of two addresses, Prof. Desiraju stressed the importance of Malaysia's formal participation in the IUCr, an on-going project led by a Malaysian Crystallographic Society steering committee under the guidance of Dr Nadiah Halim of UM, the restructuring and importance of Journals published by the IUCr, and issues relating to scientific integrity in research. The scientific address buoyed the attendance of the symposium to just on 70 participants and was a remarkable overview of the state-of-the-art thinking on the topic "Crystal Engineering – From Molecule to Crystal", a truly inspiring presentation enjoyed by crystallographers young and old.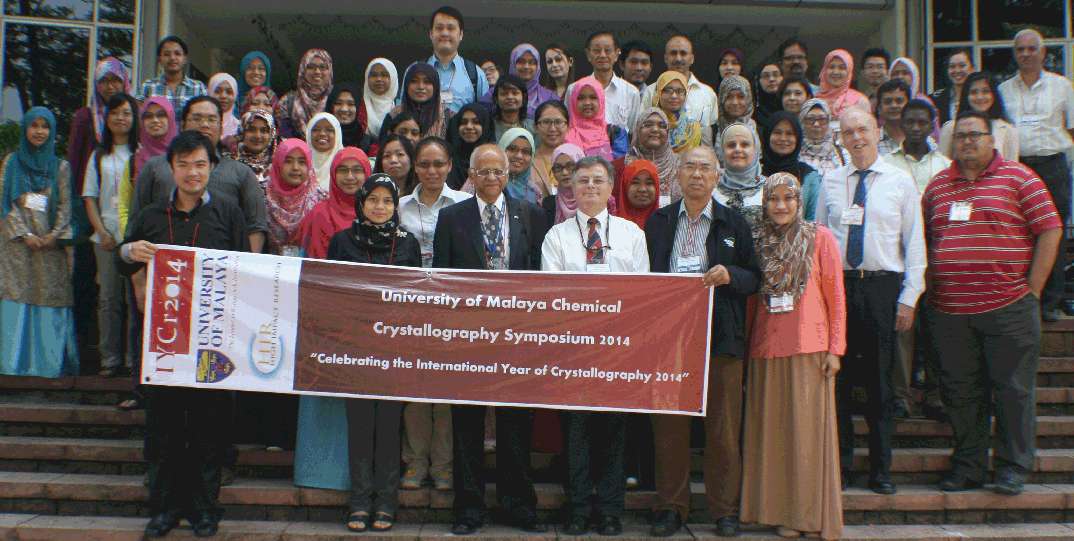 The main event was sandwiched by shorter presentations with details found at http://www.kimia.um.edu.my/?modul=Artikel&pilihan=Papar&id=2584.
The event was sponsored by the Department of Chemistry with many thanks due to the Head of Department, Prof. Dr Sharifuddin Md Zain. Prof. Desiraju's visit to UM was largely supported by the UM High Impact Research scheme administered by UM through the Ministry of Education.
Prof. Edward R.T. Tiekink
Department of Chemistry, University of Malaya