Blogging a crystal structure a day in 2014
Give me a resin
What is it?
Is there a more evocative Christmas smell than the fragrance of a fresh pine tree? Mulled wine with cinnamon spices or a roasting turkey are close contenders for the prize, but for literary purposes let's opt for the heady scent of a Christmas Fir. That rich winter wonderland terpentine-like citrus aroma is the product of several molecules (read more here http://www.compoundchem.com/2014/12/19/christmastrees/), the most significant of which is pinene.
Pinene is a terpene found in the resin of pine trees, and as well as generating the distinctive coniferous scent, it is also a potent inhibitor of the human Cytochrome P450 2B enzyme. CYP450 proteins are a superfamily of enzymes essential for hormone, cholesterol and vitamin D synthesis and metabolism. They also assist in the clearance of toxins from the body via the liver. So, if you ever you needed a "resin" not to eat your Christmas tree…
What does it look like?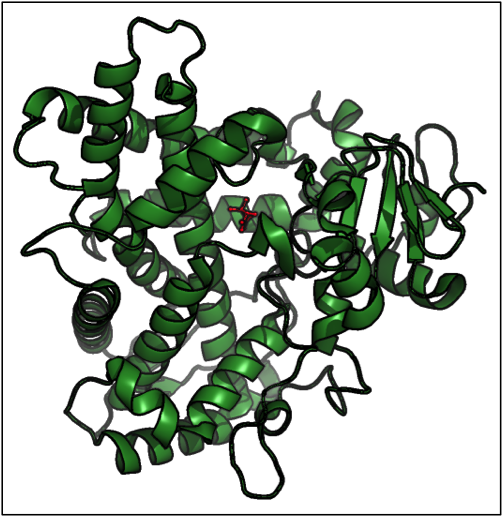 Researchers determined the crystal structure of (+)–α-pinene bound to CYP450 2B6 to better understand how this pine tree molecule can bind, inhibit, and alter the enzyme1. This is important to learn about how the enzymes generally interact with a diverse range of substrates.
(+)-α-pinene binds tightly at the CYP450 2B6 active site. The CYP450 2B6 active site is remarkably flexible and moves and shifts to mould around the pinene molecule as it binds.
Where did the structure come from?
This structure is of human CYP450 2B6 and is PDB ID 4I91.
References
Wilderman et al., Journal of the American Chemical Society 2013: 135: (10433-10440).