Le développement de la cristallographie en Afrique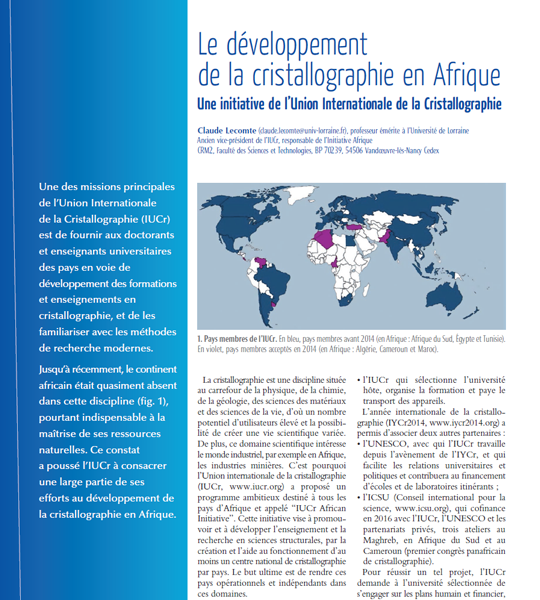 Claude Lecomte, coordinator of the IUCr Crystallography in Africa initiative, describes the recent developments of crystallography in Africa in this article published on vol. 44-45 of Reflets de la physics, the newsletter of the Société Française de Physique (SFP). Lecomte's article is availble here in pdf format.

The issue of Reflets de la physique is entirely dedicated to crystallography and entitled "La cristallographie, science et techniques". Click on read more to see the table of content. Most of the articles are open access and can be downloaded for free.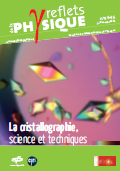 La cristallographie, science et techniques
Reflets de la physics, vol. 44-45, 2015
Table of content
La cristallographie, fondement essentiel des sciences et des technologies, Alain Fontaine
La cristallographie, science et techniques, Charles de Novion
Au sein et autour de la SFP
Angela Vella, sondeuse atomique de la matière, Mathieu Grousson
Cristaux et cristallographie
2014, une année d'exception pour la cristallographie, René Guinebretière, Jean-Louis Hodeau et Bernard Capelle
Le développement de la cristallographie en Afrique - Une initiative de l'Union Internationale de la Cristallographie, Claude Lecomte
Qu'est-ce qu'un cristal?, Bertrand Toudic
Développements expérimentaux récents en cristallographie
De la simple hélice aux nanostructures tubulaires - L'apport de la diffraction des électrons et des rayons X, Mohamed-Salah Amara, Céline Mariette, Erwan Paineau, Stephan Rouzière, Denis Petermann, Mathieu Kociak et Pascale Launois
Résoudre des structures cristallographiques inconnues avec un microscope électronique en transmission, Holger Klein
La révolution X-FEL : des lasers à rayons X pour sonder la matière, Éric Collet, Marion Harmand, Marie-Emmanuelle Couprie et Marco Cammarata
Complémentarité de la RMN, la modélisation et la diffraction pour une cristallographie des systèmes désordonnés, Sylvian Cadars, Mathieu Allix, Franck Fayon, Emmanuel Véron et Dominique Massiot
Études structurales in situ par diffraction de neutrons, Laetitia Laversenne et Thomas C. Hansen
Les rayons X et les neutrons se combinent pour révéler la densité électronique résolue en spin, Maxime Deutsch, Nicolas Claiser, Béatrice Gillon, Claude Lecomte, Mohamed Souhassou, Dominique Luneau et Jean-Michel Gillet
La microdiffraction Laue, Jean-Sébastien Micha et Odile Robach
Cristaux imparfaits ou « exotiques »
Étudier les propriétés dynamiques des dislocations pour prédire la déformation plastique des cristaux, Benoît Devincre
Analyse des textures cristallographiques et des microstructures, Thierry Baudin, Daniel Chateigner, Claude Esling, Luca Lutterotti et Magali Morales
Quand des superatomes s'ordonnent : la physique des cristaux colloïdaux, Luca Cipelletti et Laurence Ramos
Cristaux coulombiens: de la technologie quantique à la chimie proche du zéro absolu, Olivier Dulieu et Stefan Willitsch