Blogging a crystal structure a day in 2014
The 'desert rose' crystal
What does it look like?
What it is?
Desert rose is the given name to gypsum crystals which contain abundant included sand grains and crystallises under a "rosette" shape. The "petals" are crystals flattened on the c crystallographic axis, fanning open in radiating flattened clusters. These are formed in arid sandy conditions such as the evaporation of a shallow salt basin. The desert rose may also be known by the names: sand rock, rose rock, selenite rose, gypsum and barite rose.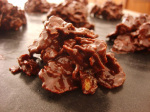 For connoisseurs, this is also a famous french dessert, named "Rose des sables" made of corn flakes and chocolate, "un délice!!!"
Where did the structure come from?
This structural information for this post comes from a paper published by Schofield et al. in 1996 in the American Mineralogist Journal.