Blogging a crystal structure a day in 2014
March's Birthstone – Aquamarine
What does it look like?
What is it?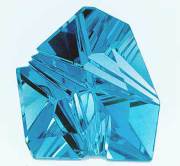 Aquamarine is a variant of Beryl (Be3Al2Si6O18). It is usually light blue in colour. It was named by the Romans who thought that it was the colour of the sea. They also thought any sailors who carried it would be favoured by Neptune and so it became a good luck charm for seafarers. It rose to popularity as a gem for jewellery as it is considered to be durable for everyday wear in items like rings. Beryl has a hardness of 8 on Moh's harness scale (1 is talc and 10 is diamond).
The additional hardness of Beryl is probably due to the presence of Beryllium in the structure. Beryllium is used to strengthen metals by introducing a small amount into an alloy. Beryllium also has excellent thermal properties: It conducts sound and heat very quickly and has a desirable linear thermal expansion. Perfect for use in industry then? It makes things harder, conducts heat and sound and expands linearly... Unfortunately Beryllium is toxic so it must be handled carefully wherever it is used. Luckily though when it is bound away in the structure of a mineral it is not toxic…
The blue colour in Aquamarine is due to a combination of Fe2+ and Fe3+ ions which are present as impurities. There are several other variants of Beryl which are coloured differently depending on the impurities. The best well known of these is Emerald. The vivid green of emerald is due to Chromium and Vanadium impurities
Beryl is a silicate mineral, like some of the earlier structures we have seen. The silicate tetrahedra in the Beryl structure share the oxygen atoms at the corners of the tetrahedron. In this case they join together to form a ring of tetrahedra when you look down the c-axis as we do in the structure picture above.
Where did the structure come from?
This structure was determined by Hazen, Au and Finger in 1986 using X-ray diffraction in a laboratory. It was part of a high pressure study of Beryl and an associated mineral Euclase. The data was collected in a Diamond anvil cell using a Molybdenum X-ray tube.