Learn about crystallography through watching
Below are listed some interesting video clips, webcasts, television programmes and films that explain crystallography. Click on the large images to download a video file, watch the clip, or be directed to an external website. Click on the smaller images for more information.
A selection of videos from the International Year of Crystallography playlist on YouTube
The Royal Institution Crystallography Collection
---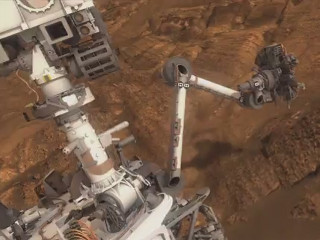 Mars Diffracts! X-ray crystallography and space exploration
An epic journey into the role of X-ray diffraction in space
Astrobiologist and intrepid science communicator Lewis Dartnell reveals the crucial role that X-ray crystallography is playing in understanding the formation and history of our planetary neighbour, Mars.
Explaining the techniques used by the Curiosity Rover to analyse the Martian surface, Lewis reveals what the discovery of clay might mean for the possibility of life on the Red Planet.
Joined by space scientists responsible for designing and operating instruments over 60 million kilometres away, Lewis delves into the mysteries of interplanetary exploration including: How do you design reliable instruments for use on other planets? Should we send humans to Mars? And, what does the next mission to the Red Planet look like?
Featuring instrument scientist Graeme Hansford (University of Leicester) and John Bridges, a participating scientist with the NASA Mars Science Laboratory working on the current Curiosity mission.
This film was produced by Thom Hoffman and supported by the Science and Technologies Facilities Council (STFC).
Published: 2014
Filmed: 2014. Duration: 11m 43s
Credits: Thom Hoffman
License: Creative Commons
The Mystery of the Giant Crystals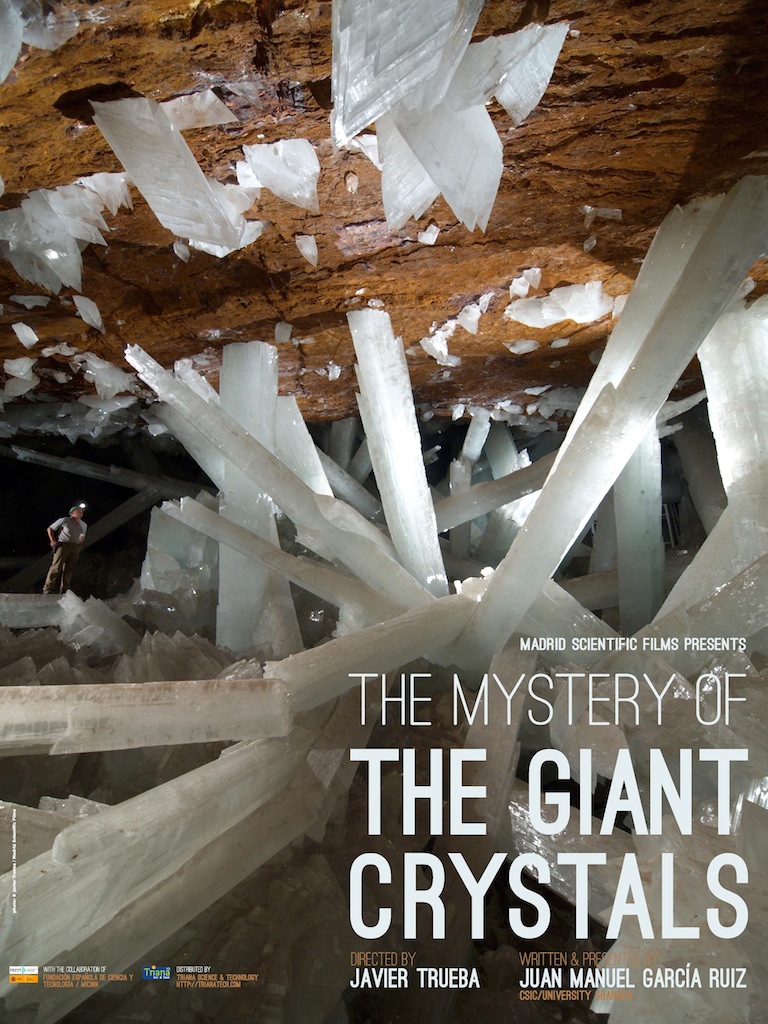 The film El Misterio de los Cristales Gigantes (The Mystery of the Giant Crystals) has been made freely available by Madrid Scientific Films and Triana Sci & Tech with the support of the International Union of Crystallography as an educational contribution to the International Year of Crystallography 2014. Written and presented by Juan Manuel García Ruiz and directed by Javier Trueba, the film tells the story of the scientific investigation into the nature and properties of the giant gypsum crystals found in a silver mine in Mexico in 2000.
| | |
| --- | --- |
| Trailer | Follow this link to read more about the project or to donate to the work of Triana Sci & Tech |
Streaming HD video
Click on the images below to view the film in high definition in English, Spanish, Italian or French.
---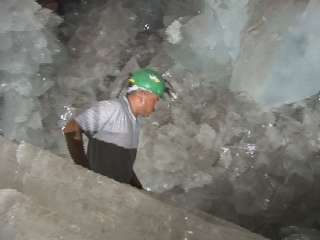 The Mystery of the Giant Crystals
The Cave of the Crystals (Cueva de los Cristales) in the Naica Mine, Chihuahua, Mexico, houses some of the largest natural crystals ever found. They are selenite, a form of the mineral gypsum (CaSO4.2H2O). Juan Manuel Garcíia Ruiz and his colleagues investigate the conditions under which these huge crystals have grown over the course of thousands of years. The temperatures in the subterranean caverns are over 50°C, and the caves are filled with water containing a variety of minerals leached from the surrounding rocks.
Duration: 50m 53s
© 2014 Trianatech.com - All rights reserved
---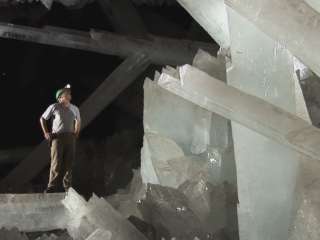 El Misterio de los Cristales Gigantes
La Cueva de los Cristales en la mina de Naica, Chihuahua, México, alberga algunos de los más grandes cristales naturales que se han encontrado. Son selenito, una forma del yeso mineral (CaSO4.2H2O). Juan Manuel García Ruiz y sus colegas investigan las condiciones en que estos enormes cristales han crecido a lo largo de miles de años. Las temperaturas en las cavernas subterráneas son más de 50° C, y las cuevas están llenas de agua que contiene una variedad de minerales lixiviados de las rocas circundantes.
Duration: 50m 54s
© 2014 Trianatech.com - All rights reserved
---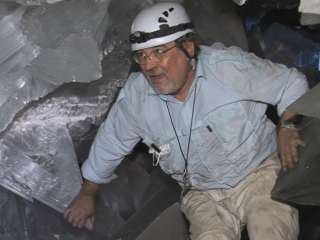 Il Mistero dei Cristalli Giganti
La Grotta dei Cristalli (Cueva de los Cristales) nella miniera di Naica, Chihuahua, Messico, ospita alcuni dei più grandi cristalli naturali mai trovati. Si tratta di cristalli di selenite, una particolare forma di gesso (CaSO4.2H2O). Juan Manuel García Ruiz e i suoi colleghi indagano sulle condizioni in cui questi enormi cristalli sono cresciuti nel corso di migliaia di anni. La temperatura nelle caverne sotterranee è oltre 50° C, e le grotte sono riempite con acqua contenente una varietà di minerali lisciviati dalle rocce circostanti.
Duration: 50m 58s
© 2014 Trianatech.com - All rights reserved
---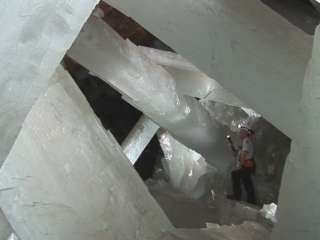 Le Mystère des Cristaux Géants
La Grotte des Cristaux (Cueva de los Cristales) dans la mine de Naica, Chihuahua, Mexique, abrite quelques-uns des plus grands cristaux naturels jamais trouvés. Ils sont sélénite, une forme de gypse minéral (CaSO4.2H2O). Juan Manuel García Ruiz et ses collègues enquêtent sur les conditions dans lesquelles ces énormes cristaux ont grandi au cours de milliers d'années. Les températures dans les cavernes souterraines sont plus de 50° C, et les grottes sont remplis avec de l'eau contenant une variété de minéraux lessivés des roches environnantes.
Duration: 50m 58s
© 2014 Trianatech.com - All rights reserved
Educational videos
---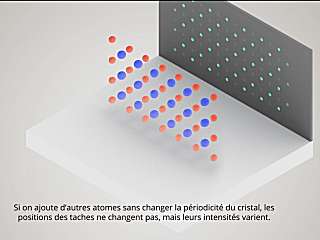 Cristallographie et Réseau Réciproque
An animation describing the concept of the reciprocal lattice in crystallography.
Duration: 1m 29s

Other animations illustrating quantum physics are available at http://www.toutestquantique.fr
Historical videos
---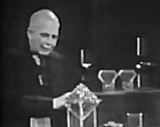 Sir Lawrence Bragg on crystals and gems

A series of six outside broadcasts filmed at the Royal Institution in the late 1950s and early 1960s, The Nature of Things was presented by William Lawrence Bragg with the assistance of Bill Coates. This is an extract from Crystals and Gems, the last show in the first series, exploring the properties and molecular structure of crystals.
Coates recalled Bragg once remarking to him: "never talk about science, show it to them", which is what The Nature of Things set out to do. Like the Christmas Lectures, the programmes were structured around a series of demonstrations and were filmed as a lecture in the Ri's theatre. Although the filming took place with an audience of adults, the series was aimed at children and broadcast on children's television. As he states at the end of the series, he hoped it would provoke "deep interest in the science of everyday things".
Broadcast on BBC Television in 1959. Duration: 17m 22s
© The Royal Institution. Credits: The Royal Institution /BBC