Learn about crystallography through watching
Below are listed some interesting video clips, webcasts, television programmes and films that explain crystallography. Click on the large images to download a video file, watch the clip, or be directed to an external website. Click on the smaller images for more information.
A selection of videos from the International Year of Crystallography playlist on YouTube
The Royal Institution Crystallography Collection
---
The humble Braggs and X-ray crystallography
Solving the patterns of matter
As the field of crystallography celebrates its centenary year we look back at how it all began – with a father and son team and a humble salt crystal.
With the help of archive footage and historic objects from the Ri, Patience Thomson, daughter of William Lawrence Bragg, presents an intimate portrait of her father. From his detailed artworks to his love of detective stories and puzzles, Patience reveals how Lawrence's unique character and analytical mindset led to numerous scientific breakthroughs.
Plus, find out how he reacted to receiving news of his Nobel Prize while serving on the front during WW1 at the age of 25 and discover how the Braggs applied their scientific knowledge to aid the war effort.
Professor Stephen Curry is also on hand to demonstrate just how important the Braggs' discovery was and how the field of X-ray crystallography has revealed the structure of hundreds of different molecules, from enzymes and proteins to entire viruses. The Braggs' discoveries of 1913 remain at the foundation of modern day techniques and, to date, 29 Nobel Prizes have been awarded to work related to X-ray crystallography.
Our thanks to Stephen Curry, Patience Thompson, and filmmaker Thom Hoffman.
This film was supported by the Science and Technologies Facilities Council (STFC).
Published: 2013
Filmed: 2013. Duration: 8m 56s
Credits: Thom Hoffman
License: Creative Commons
Educational videos
---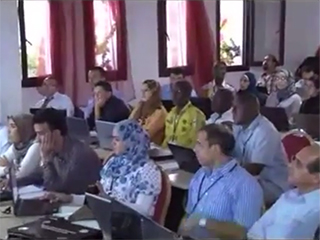 5th Moroccan School of Crystallography
STRUCTURE SOLUTION FROM POWDER AND SINGLE-CRYSTAL DATA: The objective of this scientific event, held in Oujda 24th-26th October 2013, was to bring together crystallographers from academia and industry to review the latest developments in the field. The school was intended for PhD and post-doc students, as well as researchers, teachers and engineers.
Category: Science & Technology. Duration (complete programme): 9h 49m 12s (10 videos)
Licence: Standard YouTube Licence
Historical videos
---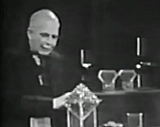 Sir Lawrence Bragg on crystals and gems

A series of six outside broadcasts filmed at the Royal Institution in the late 1950s and early 1960s, The Nature of Things was presented by William Lawrence Bragg with the assistance of Bill Coates. This is an extract from Crystals and Gems, the last show in the first series, exploring the properties and molecular structure of crystals.
Coates recalled Bragg once remarking to him: "never talk about science, show it to them", which is what The Nature of Things set out to do. Like the Christmas Lectures, the programmes were structured around a series of demonstrations and were filmed as a lecture in the Ri's theatre. Although the filming took place with an audience of adults, the series was aimed at children and broadcast on children's television. As he states at the end of the series, he hoped it would provoke "deep interest in the science of everyday things".
Broadcast on BBC Television in 1959. Duration: 17m 22s
© The Royal Institution. Credits: The Royal Institution /BBC