Learn about crystallography through watching
Below are listed some interesting video clips, webcasts, television programmes and films that explain crystallography. Click on the large images to download a video file, watch the clip, or be directed to an external website. Click on the smaller images for more information.
A selection of videos from the International Year of Crystallography playlist on YouTube
The Royal Institution Crystallography Collection
---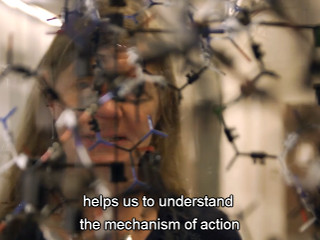 Understanding crystallography: Part One
From protein to crystal
How can you determine the structure of a complex molecule from a single crystal?
Professor Elspeth Garman take us on a journey into the world of crystallography - from protein production and purification to growing the right type of crystals.
In her laboratory at the University of Oxford Elspeth introduces us to some of the tricks of the trade, key techniques and the machines that help her team grow crystals ready for X-ray analysis at specialist facilities like Diamond Light Source.
This film was supported by the Science and Technologies Facilities Council (STFC).
Published: 2014
Filmed: 2013. Duration: 7m 45s
Credits: Ed Prosser / Royal Institution
License: Creative Commons
Educational videos
---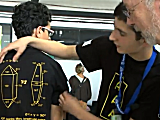 School Crystallization Contest in Andalusia
Among the events planned for the International Year of Crystallography in 2014 are crystallization contests, encouraging students at secondary and high schools to learn the challenges and joy of growing high-quality crystals. This video celebrates the Final Contest in the 2012-2013 event held in Andalusia, Spain. More than 200 high school students gathered at the Faculty of Science, University of Granada, on 11 May 2013, to put into practice the full range of scientific methods from laboratory research to the presentation of their results.
Category: Science & Technology. Duration: 5m 00s
Licence: Standard YouTube Licence
Historical videos
---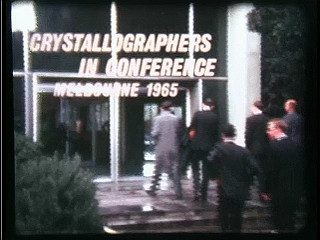 Crystallographers in Conference 1965
During the 1965 International Conference on Crystallography held in Melbourne, the opportunity was taken to record some of the great figures in the history of this subject. The twin topics forming the discussion basis for the conference were electron diffraction and the nature of defects in crystals. Among the distinguished scientists present, many had made special contributions to the research on those topics - had, in fact, pioneered a place for themselves in the story of crystallography.
Filmed at the International Crystallography Conference, 1965, Melbourne, Australia, by the CSIRO Film Unit in collaboration with the Australian Academy of Science. With support from UNESCO, the International Council of Scientific Unions, the Australian Academy of Science, the International Union of Crystallography, the International Union of Pure and Applied Physics, the International Atomic Energy Agency and the University of Melbourne.
Category: Science & Technology. Duration (complete programme): 41m 44s
Licence: Standard YouTube Licence