Follow the IYCr2014 activities on
Facebook
---
Latest news
---
Crystallography in Everyday Life
We are delighted to declare the IYCr2014-Agilent Photo Competition open! Submit stunning images that capture the spirit of crystallography in the places, objects and experiences of everyday life for the chance to win one of two USD 1000 bursaries, sponsored by Agilent Technologies, to attend the IUCr Congress in Montreal in August 2014.
---
Kristallografiåret 2014
The website for the IYCr2014 activities in Sweden has been launched.
---
La cristallographie mise à l'honneur par l'AMC (Asociation Marocaine de Cristallographie)
The 5th Moroccan School of Crystallography on "Structure solution from powder and single-crystal data" took place in Saidia on 24-26 October 2013, with more than 100 participants from Morocco, Algeria, Congo, Mali, Ivory Coast, Cameroon, Tunisia, France, Germany and Italy.
---
Coming soon ...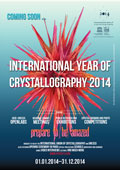 ... the International Year of Crystallography 2014
Download this brand new movie-like poster from the promotional material section.