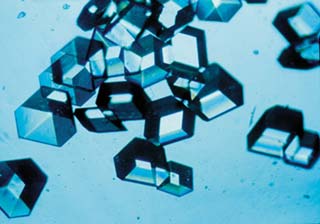 Event Name
RiAus PDplus: Crystallography
Start Date
25th Jun 2014 3:45pm
End Date
25th Jun 2014 4:30pm
Duration
45 minutes
Description
YEARS 7-10 TEACHERS: Help fulfill your professional development requirements with this free event.

Watch live online: riaus.org.au/livestreaming

Attend in person: The Science Exchange, Exchange Place, Adelaide


Free registration required: riaus.org.au/events/pdplus-crystallography/

2014 is the UN International Year of Crystallography, celebrating 100 years since X-ray diffraction allowed scientists to study the detailed structure of crystalline materials. Now crystallography is used in almost all scientific disciplines, from geologists analysing and dating meteorites to chemists synthesising new drugs to fight diseases.

This online session will outline the scientific principles behind crystallography, how it is being used currently, and the problems it could help to solve in the future. Potential career paths and in-class activities will also be discussed.

For more information visit riaus.org.au/events/pdplus-crystallography/ or email Tania Meyer, Education Coordinator at RiAus (tmeyer@riaus.org.au).

Presented by RiAus, in partnership with UniSA.

RiAus is a registered education provider. Teachers can receive a certificate of attendance that contributes towards their professional learning requirements.
---