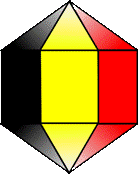 Event Name
Belgian Crystal Growing Competition
Start Date
25th Feb 2013
End Date
29th Mar 2013
Duration
33 days
Description

During a period of 4 weeks children from secondary schools have to grow single crystals, this year of alum. The competition is organized by the Belgian National Committee for Crystallography and sponsored by the Royal Academy and Acros Organics.

The prize awarding ceremony will take place on 8 May 2013 at the Academy Palace in Brussels where Dr Vande Putte will deliver a lecture on sugar and sugar crystallization.
---