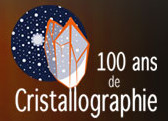 Event Name
The ribosome at high resolution: a conference by Ada Yonath
Start Date
27th Mar 2013 11:30am
End Date
27th Mar 2013 1:00pm
Duration
1 hour and 30 minutes
Description

The ribosome at high resolution: selected steps in protein biosynthesis

conférence en anglais pour un public de scientifiques et d'étudiants en science

Les progrès constants de la cristallographie des macromolécules biologiques et du rayonnement synchrotron ont conduit à l'élucidation de structures tridimensionnelles de complexes qui traduisent le code génétique en protéines. Ces structures ont permis d'établir les bases de la discrimination entre cellules hôtes et pathogènes et révélé des mécanismes de résistance aux antibiotiques.

Dans le cadre des 100 ans de la cristallographie, le Professeur Ada Yonath, bio-cristallographe et co-récipiendaire du prix Nobel de chimie 2009, donnera deux conférences exceptionnelles à Grenoble.
---