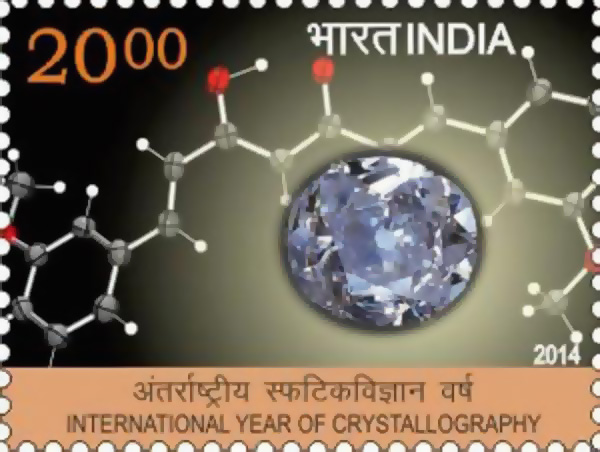 India Post stamp issue
The year 2014 marks the centenary of the beginning of modern crystallography and its identification as the best tool for the structure determination of matter. To commemorate the outstanding achievements of crystallography and its contribution to humankind, the United Nations has designated 2014 as the International Year of Crystallography 2014 (lYCr2014). Department of Posts is issuing a stamp on lYCr2014 to propagate the achievements of crystallographers across the globe and stimulate the importance of this field to young scientrsts and the general public. The commemorative postage stamp depicts a diamond and the structure of curcumin, the active constituent of turmeric, as determined by X-ray crystallography. The diamond is known for its exceptional hardness and the flashes of light given off by its natural crystal structure. curcumin is the compound responsible for the bright orange of turmeric. lt is known to exhibit biological, pharmaceutical and wide-ranging pharmacological activities such as antioxidant, anti-inflammatory, antimicrobial and anticarcinogenic. The stamp was released on 30 January 2014, in the Indian Institute of Science.
Date of issue: 30 January 2014
Denomination: 2000 p
Number printed: 0.41 million
Printing: Wet Offset, Security Printing Press, Hyderabad

See the video of the release function.
Click here to download the brochure.
---