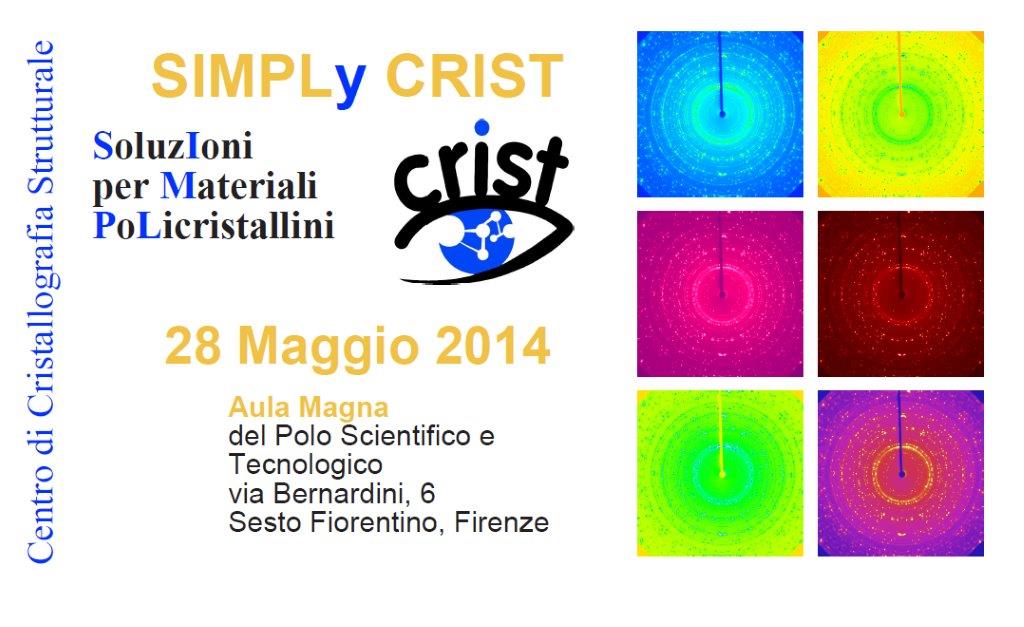 Event Name
SIMPLy CRIST
Start Date
28th May 2014
End Date
Duration
N/A
Description
The workshop SIMPLy CRIST (SoluzIoni per Materiali PoLicristallini) will be held at the Polo Scientifico e Tecnologico of the University of Firenze and will focus on the applications of X-Ray Powder Diffraction in the structural characterization of materials (small molecules, API, goods).


Confirmed lecturers

Dott. Samuele Ciattini (Centro di Cristallografia Strutturale, Università di Firenze), Il CRIST ai raggi-X

Dott. Giorgio Guastella (Agenzia delle Dogane e dei Monopoli, Direzione Regionale per la Lombardia, Laboratorio e Servizi Chimici, Milano), Applicazioni della diffrazione a raggi X in ambito doganale

Dott.ssa Chiara Vladiskovic (Dipharma Francis S.r.l., Baranzate, Milano), Principi Attivi Farmaceutici: a cosa serve la diffrazione da polveri?

Dott.ssa Laura Chelazzi (Dipartimento di Chimica «Giacomo Ciamician», Università di Bologna), Oltre i confini del cristallo singolo: aspetti applicativi della determinazione strutturale da polveri microcristalline

The full programme is available at the website.
---