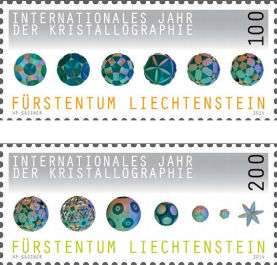 Liechtenstein commemorative stamp issue
One hundred years ago, Max von Laue received the Nobel Prize for proving that X-rays are diffracted by crystals. This discovery was simultaneously the birth of modern crystallography which has used X-rays for the non-destructive analysis of the structure of solid matter ever since then. On the occasion of this anniversary, the United Nations proclaimed 2014 the International Year of Crystallography.
Crystallography plays a crucial role in the development of almost all new materials for everyday products. The fields of application of this branch of science are extremely diverse and also affect developments in agriculture, aerospace, automotive and aircraft construction, electronics, cosmetics and pharmacy.
Between 1920 and 1970, X-ray crystallography helped to unveil some of life's mysteries. The solution of the structure of biological molecules such as cholesterol, penicillin, vitamin B12 and insulin had a huge impact on health care. One century later, X-ray crystallography is the leading method applied to study the atomic structure of materials and related properties. In the meantime, crystallographers can also examine the atomic structure of objects that are not perfect crystals, for instance quasicrystals and liquid crystals.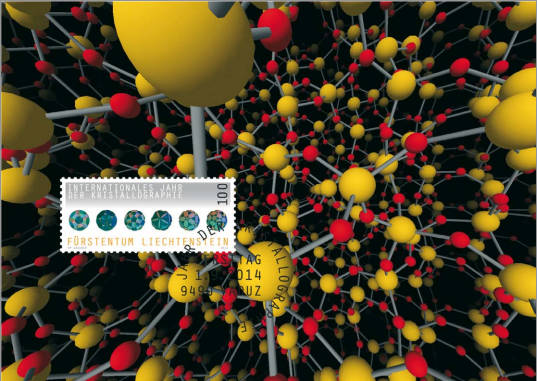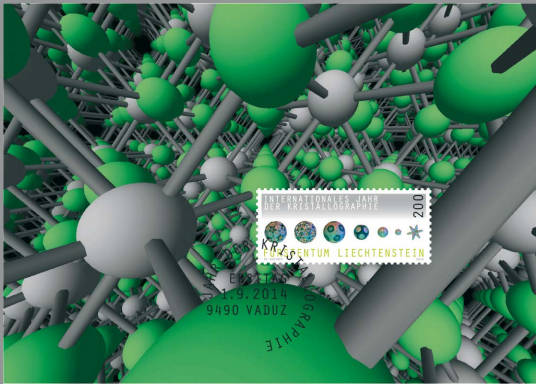 Through the "Metamorphosis Sequence 1" (value: CHF 1.00) and "Metamorphosis Sequence 2" (value: CHF 2.00) stamps, the Philately Liechtenstein is drawing attention to this influential field of science. Set out in a row, the stamps show how a crystal grows over thousands of years. With the aid of a free app (SEPAC Stamps) the postage stamps can be scanned and the metamorphosis of the crystal then observed by means of a video animation by the artist Bianca Violet. The stamps are issued on a 16-stamp sheet and were produced in a multi-stage stamping process and finished with UV gloss coating.
Technical data
Stamp format
48.58 × 21 mm
Perforation
13 ½ × 13 ¼
Sheet format
146 × 208 mm
Design
Hans Peter Gassner, Vaduz
Printing
4-colour offset, UV coating, multiheight embossing Cartor Security Printing, Meaucé la Loupe
Paper
Chancellor FSC Mix Credit, 102 gsm
---