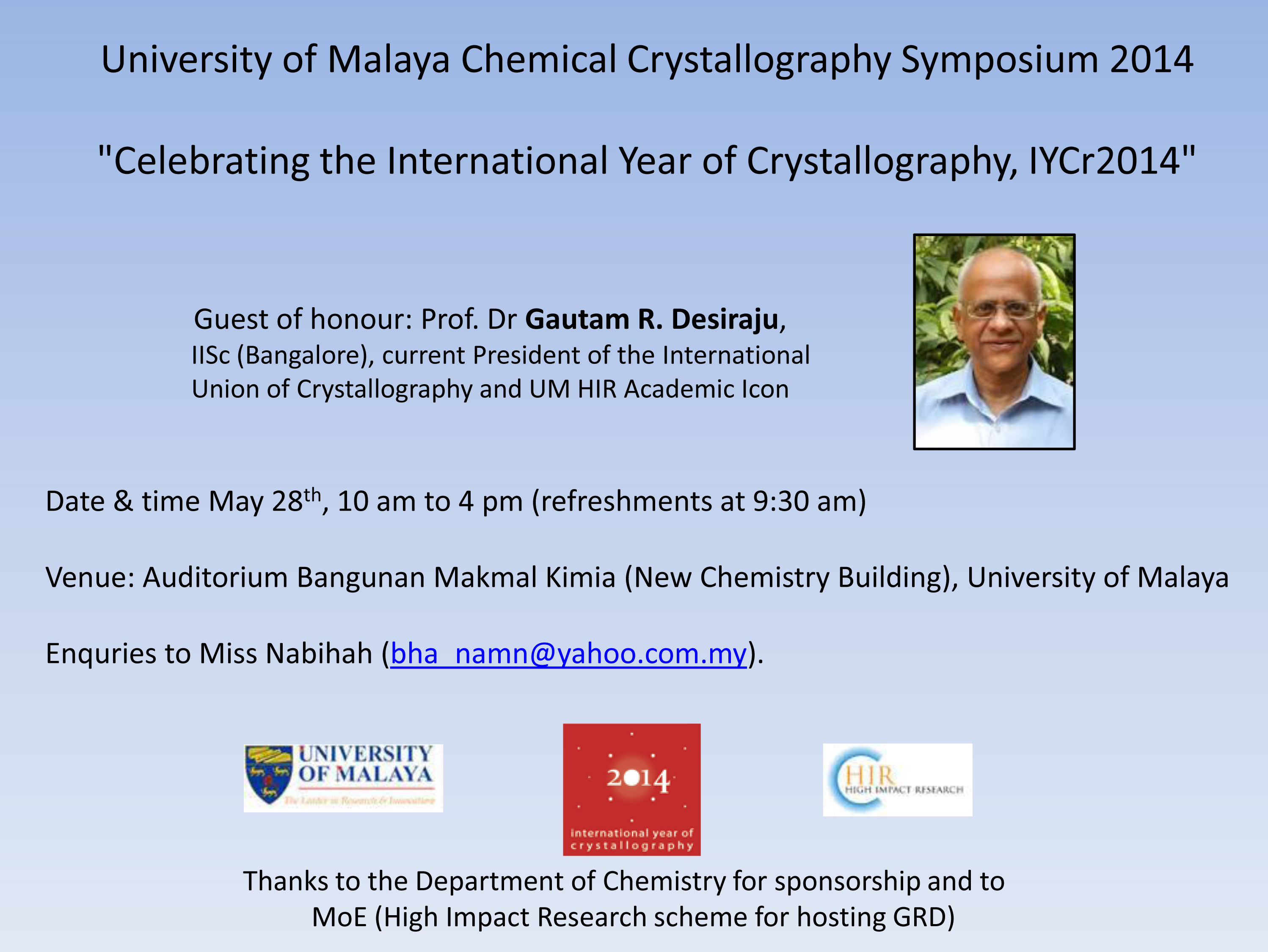 Event Name
University of Malaya Chemical Crystallography Symposium 2014
Start Date
28th May 2014 10:00am
End Date
28th May 2014 4:00pm
Duration
6 hours
Description

The University of Malaya organizes a one-day symposium on chemical crystallography entitled "Celebrating the International Year of Crystallography, IYCr2014".

Guest of honour: Prof. Dr Gautam R. Desiraju, IISc (Bangalore), current President of the International Union of Crystallography and UM HIR Academic Icon.

Venue: Auditorium Bangunan Makmal Kimia (New Chemistry Building), University of Malaya.

​Fees (inclusive of tea breaks and lunch, Abstract book; payment on the day): RM10 students (under-graduates, free); RM20 others.

Registration​ (name, status and institution) to Miss Nabihah (bha_namn@yahoo.com.my) by May 25th - limited to 130 participants.

Offers of Oral Presentations with titles (10-15 minutes) to Dr Nadiah (nadiahhalim@um.edu.my) as soon as possible. Students are especially encouraged to offer to present.

Offers of Poster Presentations (with titles and Abstract) to Miss Wani (haz_wani87@hotmail.com) by May 25th - limited to 50 presentations.

Thanks to the Department of Chemistry for sponsorship and to MoE High Impact Research scheme for hosting Prof. Desiraju.
---
Location
Kuala Lumpur
Malaysia
Contact
Edward Tiekink
Edward.Tiekink@gmail.com
URL
Category
symposia