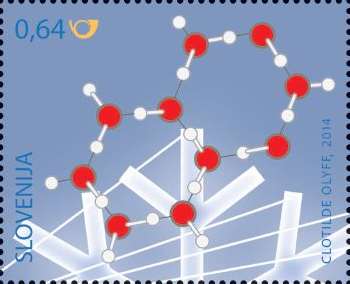 Slovenian commemorative stamp issue
This special postage stamp issue, joint with Belgium, celebrates the International Year of Crystallography 2014 and illustrates the crystal structure of water ice and its manifestation as snowflakes.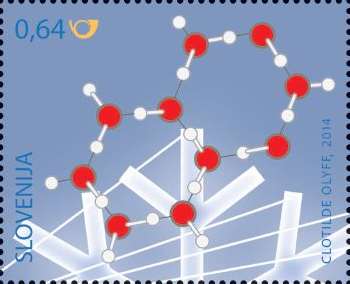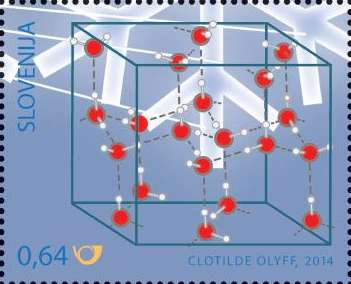 Snowflakes are wonderful examples of crystals and proof that the world of crystals is extremely rich in form. Snowflakes are made of water crystals and so they are also a type of life source. Just look at the vast ice cover on the Earth's poles, which keep invaluable supplies of fresh water in their ice reservoirs. Water can occur in three states on the Earth's surface: liquid, gas (e.g. vapour released from volcanic eruptions) and solid (i.e. crystals in the form of ice or snowflakes).
Like any calcite dripstone in a karst cave that forms a calcite crystal in and of itself, icicles and ice stalactites or stalagmites are crystals in their own right. Ice stalactites and stalagmites form in winter at the entrance to karst and other caves, when temperatures fall below zero during the day. The water trickles underground through the cracks and pores in the warm soil and rock. The low temperatures outside also cause the temperatures to fall below zero inside the cave, where ice stalactites and stalagmites form. These ice formations grow from both the ceiling and the ground, and can form curtains and nearly all other shapes that are usually formed by calcite sinter. Ice stalactites and stalagmites grow much faster than calcite dripstones, which take up to a hundred years to grow only a few millimetres. Spring temperatures usually melt the ice formations quite quickly. The exception is caves in which there is ice throughout the year. In the times when there was no electricity, people made good use of these caves, or they would dig out blocks of ice and sell them for food preservation.
Miha Jeršek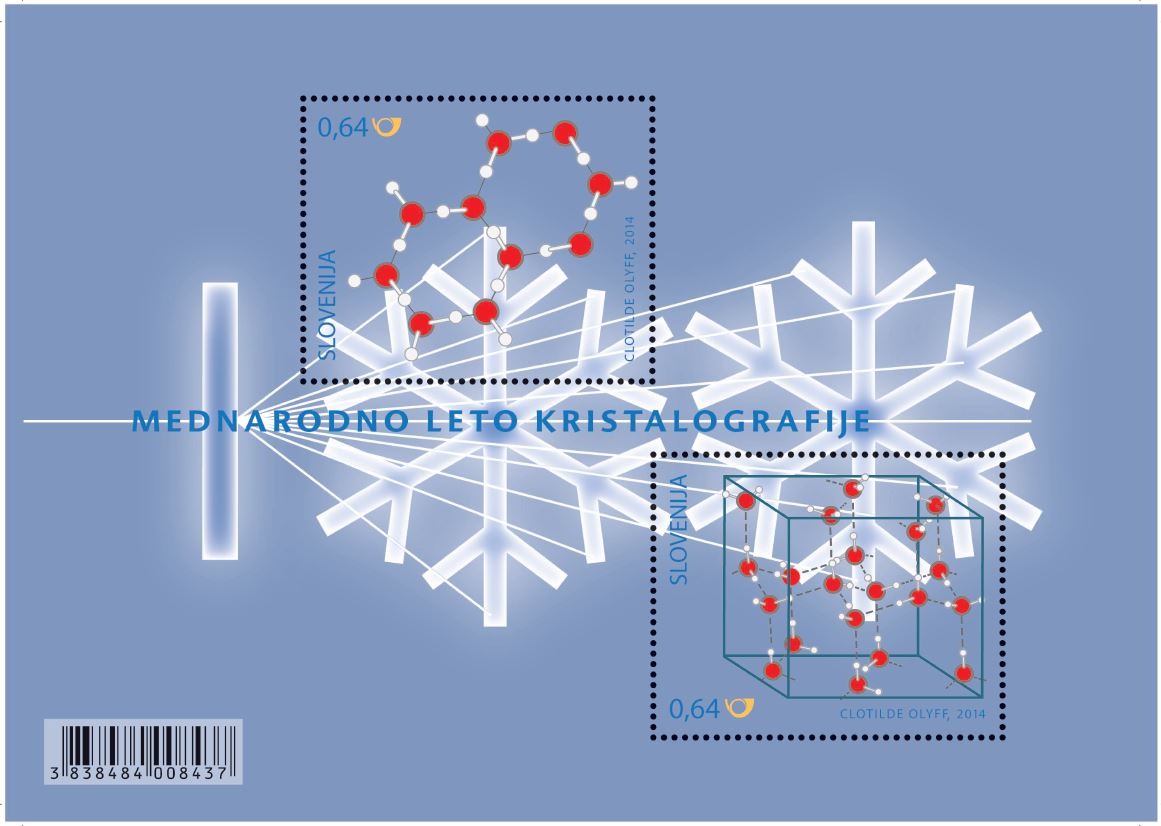 Date of issue: May 30, 2014
Design of Stamp and Souvenir Sheet: Clothilde Olyff
Printed by: Joh. Enschedé Security Print, Netherlands
Technique: 5-colour offset
Paper: 102 gsm PVA gummed
---