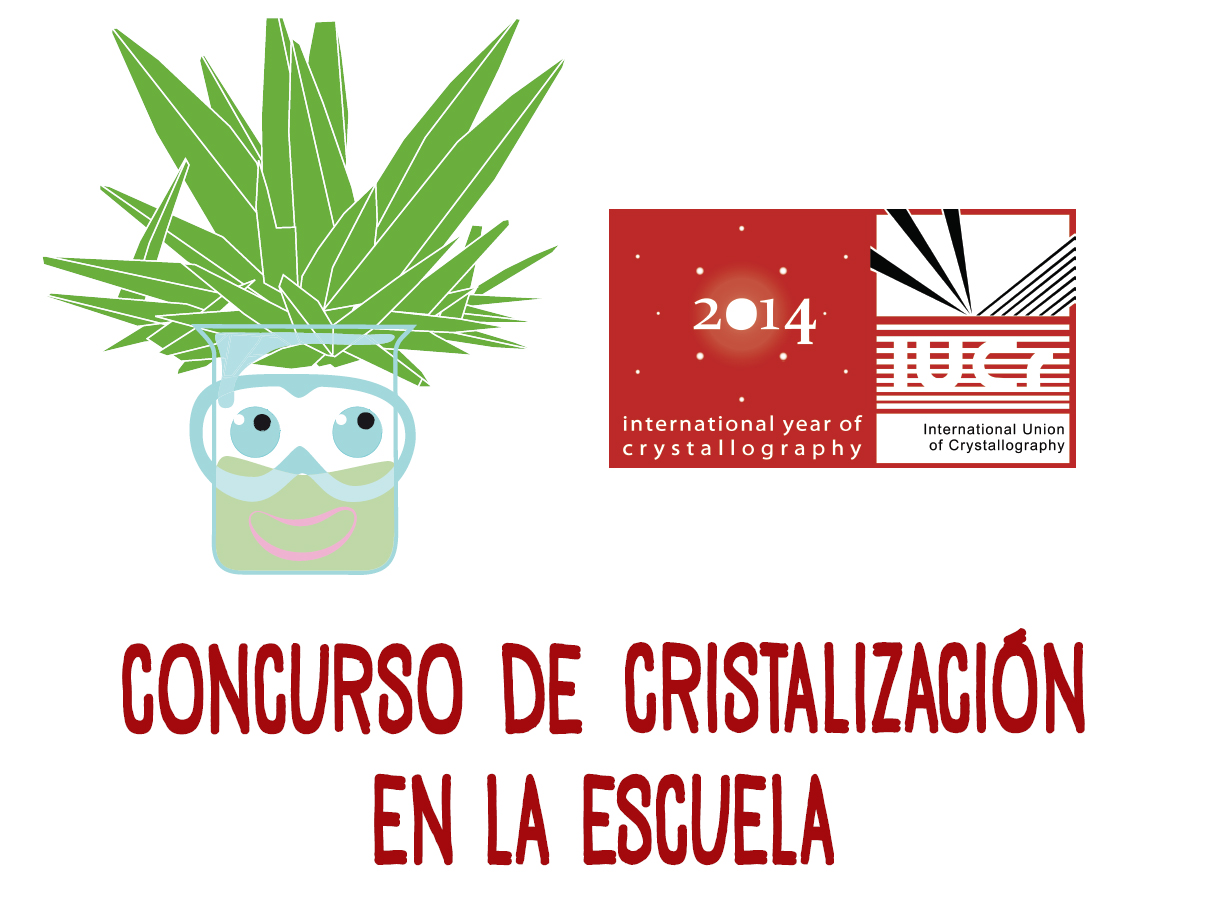 Spain: Concurso de Cristalización en la Escuela
The Crystallization Competition in the School in Spain is organized by the Spanish National Research Council (CSIC) and the Specialized Spanish Group of Crystallography and Crystal Growth (GE3C), and funded by the Spanish Foundation of Science and Technology (FECYT), among other sponsors.
This national edition of the competition is one the activities of the International Year of Crystallography and has generated enormous interest within the educational community with the participation of over 7,000 students, 286 teachers and 189 schools. It has been organised with the support of the Universities of Zaragoza, Granada, Barcelona, ​​Autonomous University of Barcelona, ​​Rovira i Virgili, Complutense of Madrid, Jaime I of Castellón, Alcalá de Henares , Oviedo and La Laguna in Tenerife, as well as the City of Arts and Sciences of Valencia.
During April, the best 40 crystallization projects from all over Spain have been selected from eight semifinals that took place in Andalusia, Aragon, Catalonia, Asturias-Galicia-Cantabria, Valencia, Canarias, Madrid and Alcalá de Henares.
The crystallization projects will be evaluated by a panel of renowned researchers and representatives of scientific associations, including the European Crystallographic Association, the Spanish Royal Society of Chemistry, the Spanish Society of Mineralogy, the Spanish Society of Clays, the Spanish Group of Crystallography, the Spanish National Committee Crystallography, the Spanish Association of Teachers of Earth Sciences and the College of Chemists of Puerto Rico.
The award ceremony will be held at 14.00 am at the Auditorium of CSIC's headquarters and it will be attended by the President of CSIC, Prof. Emilio Lora-Tamayo and the President of the International Union of Crystallography, Prof. Gautam Desiraju, among other authorities.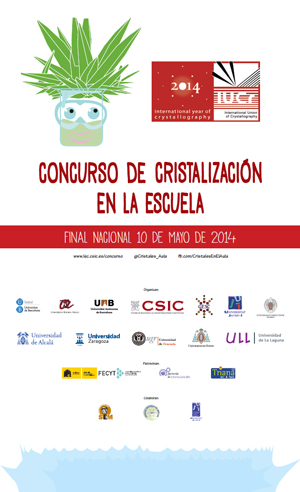 Click on the thumbnail to download the poster of the event
The main objective of the Crystallization Competition in the School (http://www.lec.csic.es/concurso/) is to introduce the importance of crystallography and its applications among secondary schools by taking advantage of the natural attraction of the crystallization phenomenon. The design of the competition, which begins with crystallization and crystallography courses for school teachers, allows students to learn how to work as scientists in the lab, to enjoy scientific teamwork and present their results as researchers would do in a scientific conference.
Each team of students will present a selection of their best crystallizations together with a poster using a scientific layout and the laboratory notebook with details of the work plan and results obtained.
This is the sixth edition of this popular science competition that has been organised in Spain since this activity was first organised and promoted by the Laboratory for Crystallographic Studies (CSIC-Granada) in the 2009/2010 academic year. The successful design of the Crystallization Competition in the School has been a source of inspiration to develop similar initiatives in other countries.
For additional information:
Web: http://www.lec.csic.es/concurso/
Facebook: https://www.facebook.com/CristalesEnElAula
Regional information at:
---