Uruguay: Concurso Nacional de Crecimiento de Cristales
A Crystal Growth competition for groups of 3 to 4 schoolchildren in categories 10-13 and 14-18 years old and for the general public that, under the guidance of a tutor (primary or secondary school teacher or trained person) that receives a 2 hour training, perform a crystal growth procedure with suggested materials.
The Competition has 2 modalities. The formal competition requires schoolchildren to grow a crystal of KH2PO4, an informal or open competition requires participants of all ages to grow a crystal of a desired compound.
The competition additionally proposes the creation of a video or monograph that allows the participants to join the International Crystal Growth competition proposed by the IUCr in the IYCr2014 web page.
Pre-registration and tutors training form May 19th to July 11th.
Crystal growth process from August 4th to September 1st.
Submission of results up to September 10th.
Announcement of winners on September 15th.
Premiation ceremony October (to be confirmed)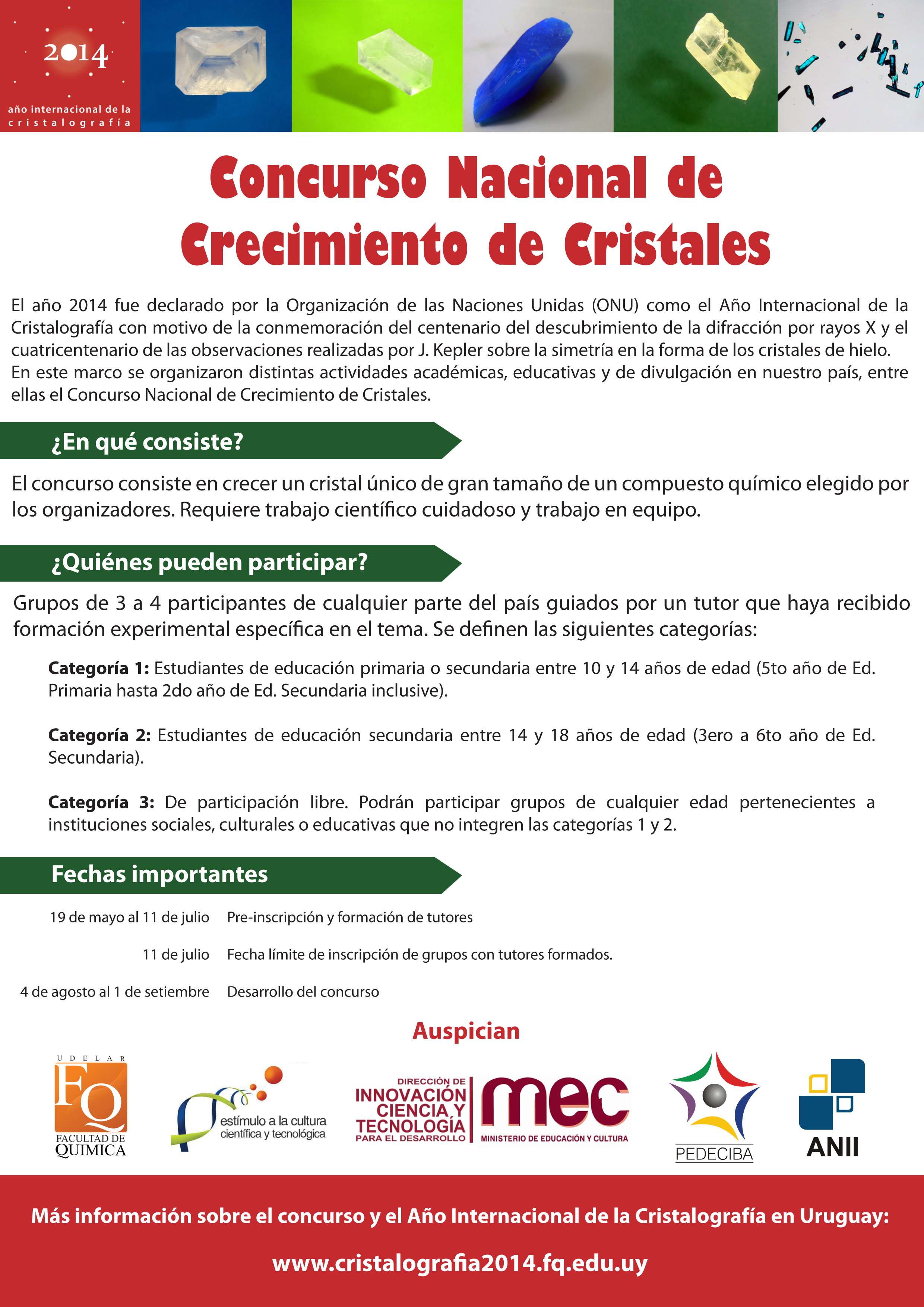 Click here to download the poster of the competition
Spanish version
Una competencia de Crecimiento de Cristales para grupos de 3 a 4 escolares o liceales en categorías de 10-13 o 14-18 años de edad y para el público en general, que con la guía de un tutor (maestro o profesor de primaria o secundaria o persona formada) que reciben un entrenamiento de 2 horas, realizan un crecimiento de cristales con materiales sugeridos.
El concurso tiene dos modalidades. La competición formal requiere a los estudiantes crecer un cristal de KH2PO4, la informal o abierta requiere a participantes de cualquier edad crecer un cristal del compuesto deseado.
La competición adicionalmente propone la creación de un video o una monografía que permita a los participantes también integrarse al Concurso Internacional de Crecimiento de Cristales propuesto por la IUCr en la web del AICr2014.
Pre-inscripción y formación de tutores desde el 19 de mayo al 11 de julio.
Proceso de crecimiento de cristales desde el 4 de agosto al 1 de setiembre.
Envío de resultados hasta el 10 de setiembre.
Anuncio de los ganadores 15 de setiembre.
Ceremonia de premiación en Octubre (fecha a confirmar)
---